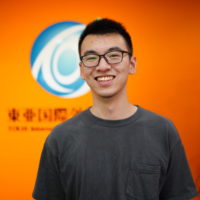 When I first came to East Asia, I had the impression that laughter was always going on. Teachers and students are like friends. It's safe for my first time studying abroad. At present, in East Asia, I am a senior, so I try to help junior students as much as possible. My goal is to continue my studies in graduate school.

Zhu Xiang Convention and Exhibition Center.
When I came to Japan, I was filled with anxiety. Japan is a place I don't know very well, I don't understand so many languages, I'm in trouble. However, the Japanese people are very kind to me, not only teaching english, but also teaching me a lot about Japanese life. From the day I arrived in Japan, the teacher showed me around the supermarket and asked me to do Passmo to help with all the immigration procedures, from being really slim to the details, and I took care of me. In less than a week, I made friends from different countries, and if I had time, I would love to compare my cooking skills. Looking back now, my first self thought too much.

I'm Mal Shadiniti. I came to Japan last October. Life in Japan is very interesting, but there are many difficulties when living in Japan, because I am an international student. By far the most impressive thing is that Japan's rules are very strict. At school, teachers teach school rules every day, as well as Japanese rules. In the future, if you find a job in Japan, you must abide by the company's rules. It's hard to learn Japanese, but I hope to learn it well at school and speak more. At school, teachers teach school rules every day, as well as Japanese rules. In the future, if you find a job in Japan, you must abide by the company's rules.

RASHED HAMAD BUTI ALMASOOD ALMEHAIRBI.
The reason why I came to Japan is because I am fascinated by Japanese culture. I have been on holiday in Japan many times and have experienced many experiences. So I decided to live in this beautiful country. Japan is very safe, the Japanese are very polite, very gentle, so don't worry. I want to achieve the goal of mastering Japanese in East Asia. I want to start a business in the future and use Japanese to build a bridge between Japan and the United Arab Emirates, especially Dubai.

Hello everyone. My name is Svota Dejan. I'm from Croatia. The 37-year-old visited Japan with his family in November 2014. Last year, I worked at the Mituri Clinic and Honda Heat. As my Japanese is not very good, I decided to go to Japanese school because the work is very inconvenient. After all kinds of research, I chose the East Asia Chinese Foreign Studies College. The teachers in East Asia are very friendly and kind. I think my choice is very good. Let's meet in East Asia.

Hello everyone. My name is Zenbun. I'm from Shanghai. I came to Japan from Shanghai in October 2015. I am currently studying at Toa International Institute of Foreign Languages. I have been studying in East Asia for a year. The school is very beautiful, the teacher is kind, and the friend of the school is very interesting. On my days off, I enjoy shopping and watching movies with my friends. I gained more confidence by continuing to study Japanese. I want to study happily in Toa from now on.